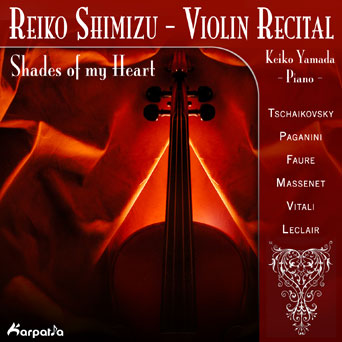 "Shades of my Heart" Reiko Shimizu – Violin Recital
A selection of this fine violinist's most favored music.
Reiko Shimizu – violin, Keiko Yamada – piano
J. M. Leclair: Sonata
T. A. Vitali-Charlier: Ciaccona
G. Faure: Sonata
G. Faure: Berceuse
E. Ysaye: Reve d'Enfant
J. Massenet: Meditation from Thais
M. T. v Paradis: Sicilienne
J. A. Desplanes: Intrada
P. I. Tchaikovsky: Melodie
P. Nardini: Larghetto
N. Paganini: Cantabile
---
This album or individual tracks are available only here at iStrings. To obtain the complete music files please contact us.